Please help a seven year old orphan Masha.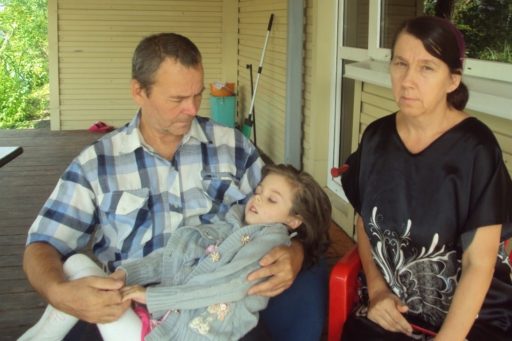 On May 27, 2017 Masha went with her mother to visit grandma. When they were crossing the street, she was hit by a fast moving vehicle. The impact was significant, causing the little girl to land 15 meters away. She was immediately taken to a local hospital, where she spent the next 40 days for treatment. The prognosis was poor, but parents were overfilled with joy when she opened her eyes for the first time. Sadly, her recovery is very slow. In November 2017, Masha was taken to a neuro-rehabilitation clinic in Moscow for recovery. As a result, today she can move around, eat by herself, and read. A school teacher comes to visit her regularly.
Masha's mother could not handle the stress and committed suicide. Her father, an alcoholic, left his family long before this happened, and now this girl is a orphan, under the care of her grandparents. The grandmother is a church member in a Baptist church located in the city of Bikin, Habarovsk region. Grandfather is close to becoming a believer, but still has not accepted Jesus. Masha also has a 1 year old brother Alex, who is staying with his other grandmother (67 year old). She is not a believer.
The treatment in this neuro-rehab clinic in Moscow will cost $10,000 (including additional expenses for travel and food), and the doctors give some hope of recovery. The relatives cannot afford to cover the expenses and are asking for help. Moreover, the grandmother was recently diagnosed with cancer. The family is experiencing hardships, but they believe God can do a miracle.
We plan to send aid through a local church pastor. We will later provide a report of how the money was spent.
You can donate through a GoFundMe account here:
https://www.gofundme.com/medical-fund-for-orphan-masha
This aid for Masha was coordinated with a local Evangelical Baptist Church in Bikin (Pastor Kulikov S. B.) and in Habarovsk (Pastor Tkachenko, V. I.).
You can view more photos here: